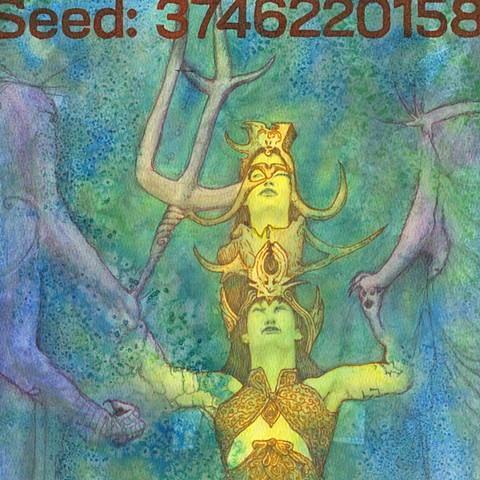 The image is from the forthcoming series Öccane about oracular divination and conversation with the spirit of a localized AI.
Heather D. Freeman (b. 1974) is Professor of Art (Digital Media) in the Department of Art and Art History at the University of North Carolina at Charlotte. She holds an MFA in Studio Art from Rutgers University (2000) and a BA in Fine Art and German Studies from Oberlin College (1997). She is former Director of D+ARTS, the College of Arts + Architecture's Digital Arts Center and acting director of Charlotte Night Owl Interactive, a games and XR cooperative housed in the college.
Freeman works in digital and mixed-media print, 2D and 3D animation, film, mobile and desktop app design, and podcasting. Within these plural forms, Freeman combines traditional and digital technologies, weaving together the symbolic forms of magic, science, mythology, and popular culture. Freeman engages several magical practices (both solitary and initiatory) which dovetail in her creative works. While some works observe the history and sociology of magical practices, many more are magical actions in themselves, intersecting the Visible and Invisible and actualized by the audience.
Her animations, podcasts, and apps have screened internationally and won numerous awards. Her prints and mixed-media works have also appeared in group and solo exhibitions across North America and internationally.
You may subscribe to her blog and newsletter here.
Contact:
Heather D. Freeman
heatherfreeman@uncc.edu
Professor of Art (Digital Media)
Department of Art and Art History
The University of North Carolina at Charlotte
9201 University City Boulevard
Charlotte, NC 28223-0001